Membership in the Midland Chamber of Commerce is an investment in your business and your community. Chamber membership provides services designed to foster growth for both individual businesses and the Midland business community.

Join our 1000+ member-strong community and receive member-only perks, exclusive advertising, quality networking opportunities, and increased exposure for your business.
Curious how membership with the Midland Chamber can help you meet your business goals? From enhanced visibility to networking opportunities, Chamber membership provides avenues to strengthen and grow your business.
Impact Public Policy
An important part of the Chamber's work is on local, state, and federal levels to influence current and proposed legislation that may have an impact on Midland businesses. Governmental decisions are made every day that impact Chamber Members' hiring practices, working conditions, wages and benefits, taxes – the list goes on.
Collectively, we are stronger as an organization and have greater success bringing attention to business issues.
Visibility
Your business is promoted through our Chamber's print and online directories. We also provide new members with a listing in the Midland Reporter-Telegram. Your business can be highlighted on Facebook and Twitter channels through various member-only venues (such as news releases and hot deals).
Additionally, we provide exclusive business referrals for Chamber members.
Networking Opportunities
Opportunities to connect with potential clients and vendors are offered through our informative signature luncheons, ribbon cuttings, committee meetings, and other special events. Connect with other members to discuss fresh business ideas, including best practices and strategic solutions.
Credibility
Being a member of the Midland Chamber highlights the importance you place on your business image. It also signifies to the community that you are actively involved in making Midland a better place to live, work, and conduct business.
Numerous resources for your business are delivered with membership in the Midland Chamber.
All Chamber members receive the following resources:
Midland Guide categorical and alphabetical listings (published yearly)
MRT's Business Matters page new member listing (*new members only*)
Exclusive member referral
Opportunity to display business brochures in the Chamber lobby
Yearly membership decal
Volunteer opportunities
Chamber Ad Dollars: 50%-off one member-to-member e-blast (conditions apply/*new members only*)

Subscription to member-only emails
Certificates of Origin
Learn more about these resources by watching our Member Info Videos.
Member-to-Member Benefits
NOTE: Member resources may be changed without notice to meet the ongoing needs of our members.
Membership Information Packet
For a complete look at membership, browse and/or download our Member Information Packet.
Three levels of annual membership are offered: Member, Gold, and Platinum.
Membership pricing is based on employee number. Part-time employees count 2-for-1.
How to Calculate Employees
If a business has five (5) full-time employees and four (4) part-time employees, dues would be calculated as seven (7) employees [5 (full-time) + 2 (4 part-time) = 7]. This business would pay $390 for the Member Level or $585 for the Gold Level. All Platinum memberships are $3500 regardless of the number of employees.
Ready to join the Midland Chamber community? Submit your application now!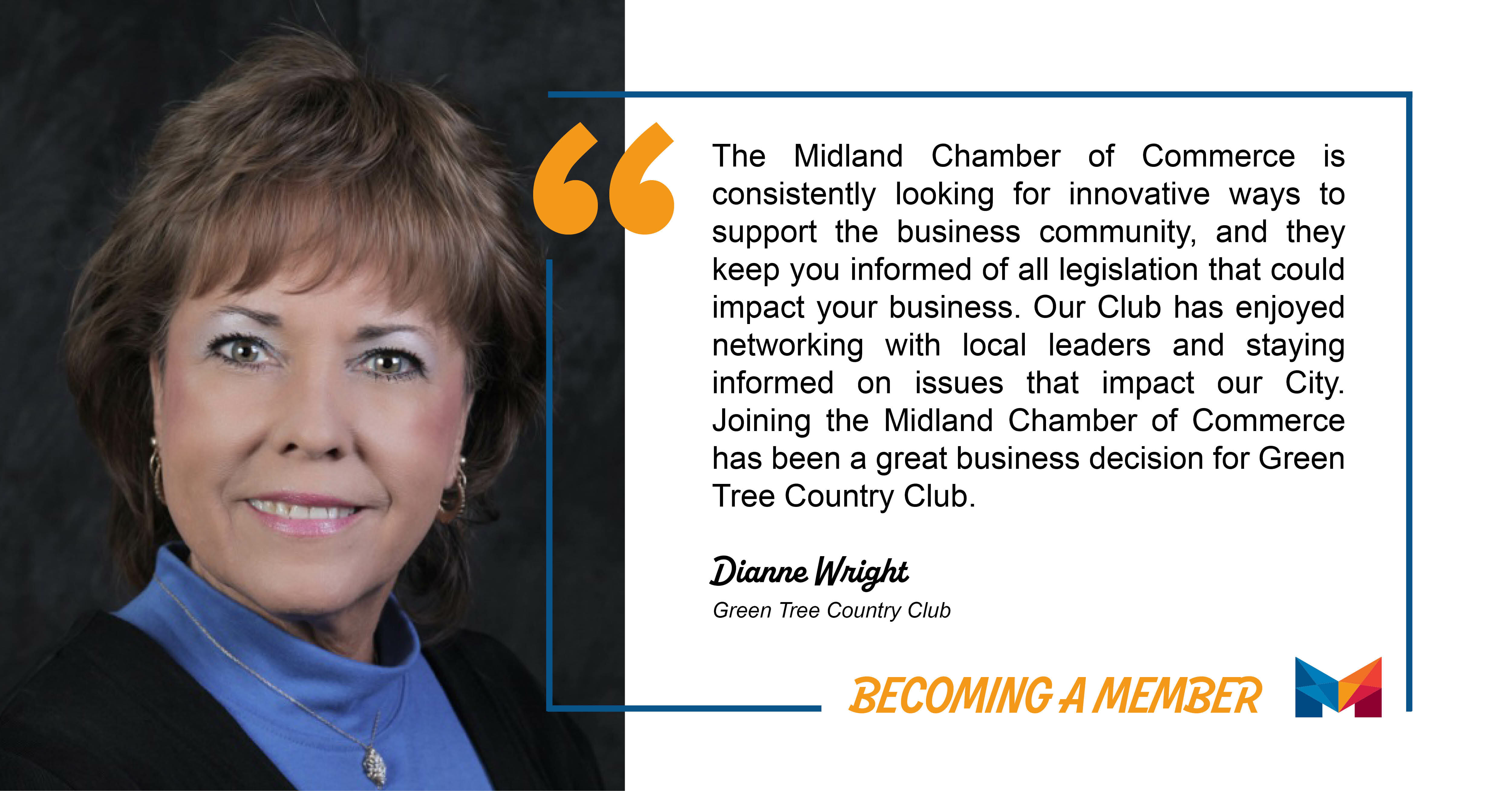 Have questions? Reach out to our membership team.