Our VISION
To create the best business climate on the planet
Our MISSION
To promote and foster business growth and success for our members and the community
Founded in 1924, the Midland Chamber of Commerce is a membership-based organization that exists to enhance the robust business climate of Midland, Texas. All resources, programs, and events of the Chamber are designed to give businesses the opportunity to make or save money, acquire knowledge and skills, and/or make those all-important business connections.
From the moment businesses become interested in Chamber membership through their entire membership experience, the Chamber's membership department puts members first, working to provide them with numerous resources, including exclusive networking, marketing, and cost-saving opportunities.
Guiding potential clients to member businesses is one of the resources the department provides its members. Through phone call referrals, website referrals, and organizing cost-efficient opportunities for members to reach their markets, the department works to improve the bottom line of its members by increasing their business.
The Chamber offers events offering valuable learning, promotional, and networking opportunities for our members. These events include our State of Oil & Gas, State of Education, Star-Spangled Salute, and many more. Further, we manage multiple programs and initiatives - such as Leadership Midland, our M-Squad, and Governmental Affairs - to offer more services and opportunities to our businesses.
In addition to serving the business needs of our members, the Chamber also manages VisitMidland, the VisitMidland Info & Travel Center, the Barbara and George H.W. Bush Convention Center, and Centennial Park.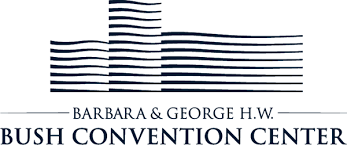 Our Chamber's mission is to promote and foster business growth and success for our members and the Midland community. We work to achieve this mission through:
Being an Influential Chamber (accredited by the US Chamber of Commerce), cultivating diversity within our membership base and leadership, and maintaining a professional staff
Providing Strategic Business Support to our Chamber members through an array of cash flow, networking, and promotional benefits
Advocating for a business-friendly climate at all levels of government
Promoting Midland as the place for work, tourism, and conventions
Encouraging Quality Growth and Development of our community in order to attract and retain the best workforce
In the spring of 2017, our Board approved an updated strategic plan to guide the organization.

The five components of this plan work in concert toward our mission to promote and foster business growth and success for Chamber members and the community. This strategic plan gives a clear framework to achieve the Midland Chamber's vision of creating the best business climate on the planet.
Our chamber seeks to align with groups, agencies, and initiatives that share our goal of creating a healthy, productive business community. Below are the organizations with which we are affiliated.
Young Professionals of Midland (YPM) is a non-profit organization formed in 2006 as a program of the Midland Chamber of Commerce. With a membership base of more than 250 people of diverse professional and personal backgrounds in the Permian Basin, this group has become a well-respected community resource and recruitment tool for the city of Midland.
YPM serves working professionals ages 21-40 and offers Associate Memberships for those over 40.
Dues: $80/year.
Membership Benefits: Exclusive free events, discounted open events, special partner event invitations and offers, and a great networking environment.
American Chamber of Commerce Executives (ACCE) is a national association uniquely serving individuals involved in chamber management of chambers. ACCE's mission is to support and develop chamber professionals to lead businesses and their communities. The organizational vision is that ACCE is the organization of choice for chamber professionals.
For over 85 years, the Texas Association of Business (TAB) has been the state's most influential business association in Austin and Washington, representing the needs of employers, taxpayers, and families across the state. The association has been at the forefront of each legislative initiative that has made Texas the strongest business climate in America.
Beginning in 1906 as the Texas Commercial Secretaries Association, the organization became the Texas Chamber of Commerce Executives (TCCE) in 1978. TCCE's mission is "to enhance and promote the professional growth and competency of chamber of commerce professionals."
The world's largest business federation representing the interests of more than three million businesses of all sizes, sectors, and regions, as well as state and local chambers and industry associations.
While our Chamber maintains close working relationships with local authorities, we are not a governmental body. We are a membership-based, non-profit organization.

For local governmental information, connect with our local authorities: the City of Midland and Midland County.